USC Viterbi School of Engineering's graphic identity is a system of coordinated design elements – graphics, colors, and typography – that serve as the school's visual signature. The resources on this site are offered to encourage consistent, effective use of the graphic identity across various media and applications.
To help convey a coherent expression of our visual identity, faculty, staff and students at USC Viterbi use elements of the USC graphic identity system in multiple formats. The links and resources on this page are intended to assist in the production of compelling, consistent brand messages.
View the guide online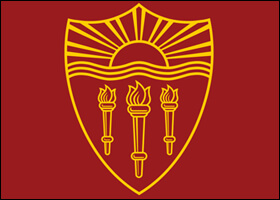 USC
 and 
USC Viterbi
 logotypes and wordmarks are available for download from the 
USC Identity Guidelines website
. To locate the USC Viterbi graphic assets, browse to the Academic Unit Logotypes section, under "Print Guidelines." Please note: To download these graphic assets, you must have a USC login (email and password). If you do not have a USC login and you would like to access these assets, please contact the USC Viterbi
Office of Communications and Marketing
for more information.
Use of the USC Viterbi wordmark: The USC Viterbi logotype must appear prominently on all publications and electronic resources produced by the school and its affiliates.
The formal USC Viterbi logotype consists of the USC monogram, Viterbi wordmark and the academic unit descriptor. Combined in a precise manner, these elements create a distinct logotype for USC Viterbi. The spacing between the USC monogram, the Viterbi wordmark and academic unit descriptor have been carefully considered for the best balance and readability. Do not alter or attempt to create the logotype in any way. Always use approved artwork.
USC Viterbi Stationery and Business Cards
The university's approved stationery vendors have all of graphic elements and assets for the USC Graphic Identity Program, including those for USC Viterbi and all USC academic units.
To order stationery
• Go to usc.edu/purchasing
• Click on Trojan e-Market and Log-in
• Click on Search for Contract Supplier
• For Business Cards enter: Corporate Graphics
• For Letterhead enter: Letterhead Factory
You will be prompted with instructions for personalizing your stationery items and asked to fill out your contact information in the appropriate fields. If you have any questions, contact USC Purchasing Services at (213) 740-9786.
Published on November 28th, 2017
Last updated on April 13th, 2020